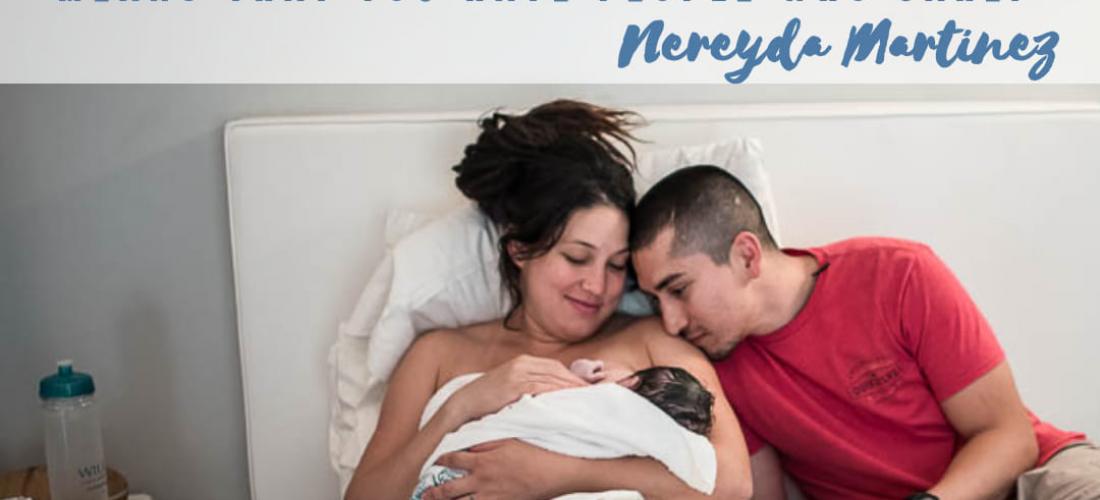 Willow Wish Story – Spring 2018
Hello, my name is Nereyda Martinez and I am a Willow Wish recipient and I wanted to take a moment to share just how much Willow Wish was a blessing to my and my family's life.
Around the time I found out I was pregnant, my husband and I were having a really hard time. Receiving Willow Wish was extremely helpful for us financially. Willow Wish just wasn't there for me to help me get that birth center birth that I really wanted. It also opened the doors to getting the self-care that we both needed in order to take care of ourselves, and also to bring another baby into this world. So yes, Willow Wish has a very special place in my heart because it turned our lives around completely.
It also has a special place because I know that other women are getting that chance, that opportunity to have the birth that they want. I know how important it is to feel not only reassured, but empowered when you're bringing a baby into this world. Birth centers allow you to have the baby in the way that you and your body and your baby need to work together and come into this world. At a birth center, not only do you feel empowered, but you are respected and you're surrounded by all these other women that believe in you, and I think that every woman deserves that.
It's not just about having the financial assistance to get the birth that you want, but it's also a very empowering moment in a woman's life. As a woman and as a mother and I'm just so grateful that Willow Wish is able to provide this and I would really encourage you to donate as much as you can to help women get the birth that they dream of because it's not something impossible and it shouldn't feel like it's something impossible. It's something that everyone and every woman deserves and has a right.
Thank you Willow Wish. I used to think that needing help meant that you were weak. But it's not. It means that you have people who care. Thank you for caring about women and their rights, and allowing them to experience such a beautiful moment as they bring a baby into this world. And thank you to those who donate to make this possible for many more women and not just me.
Make Wishes Come True Today
Today is the day!! If you are seeing this before 8:00 am EST (6:00 am AZ TIME) – please take action!

Get online – try for 5:50 am and get ready to donate right when giving opens this morning at 8:00 am EST (6:00 am AZ time). We will be LIVE on Facebook and Instagram from 6:00 am – 7:00 am.
Are you seeing this after the conclusion of the Facebook Match? It's not too late!! You can still help us receive our matching funds from our sponsors.

Two of our generous sponsors have pledged to match $2,000 in gifts TODAY. Your gift will move us towards our goal of receiving all our matching funds. Please follow the links (listed above) to our campaigns and know that your gift is making a difference to Arizona families who are wishing for the out-of-hospital birth experience.

We thank you for helping us kick off our 2020 giving today – we appreciate you!

Warm Wishes,
Willow Wish Fundraising Team

P.S. Do you have a lot to give this year? Please show some love to some other organizations that support women and families through the childbearing years.
P.P.S. Remember that sharing is caring! Even if you are not in a position to give financially this year, your word to your friends can still help us!! Please share our posts with your community of friends and family and let them know why #birthmatters and #grantingbirthchoice is important to you. Thank you in advance for taking the time to write from your heart
#GrantingBirthChoice #WillowWish #GivingTuesdayWish