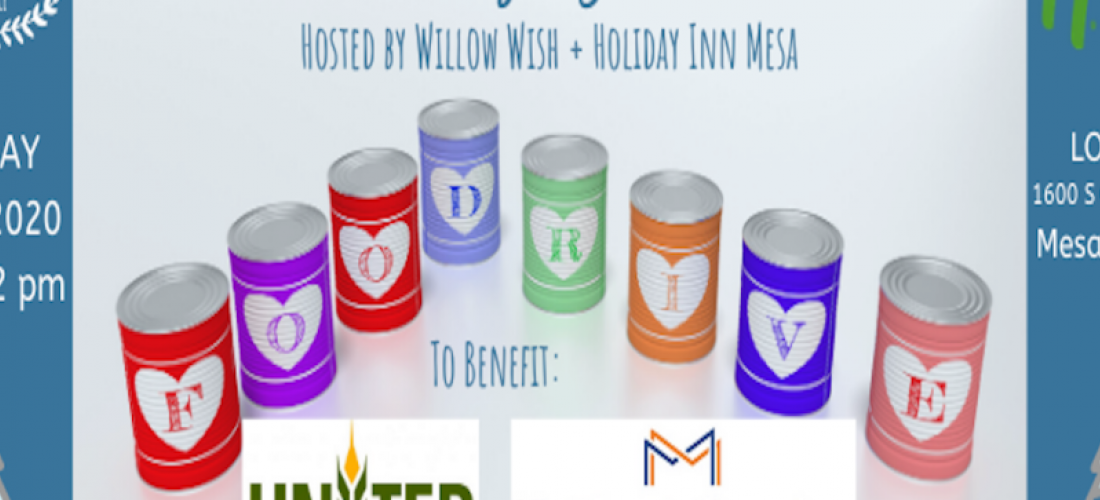 Please join us as we host a "Christmas in July" Food Drive to make a difference for our neighbors who are facing food insecurity during these interesting times. Let's stock the Food Bank shelves so that it's one less thing for our neighbors to worry about as they face a delayed back-to-school season with limited resources.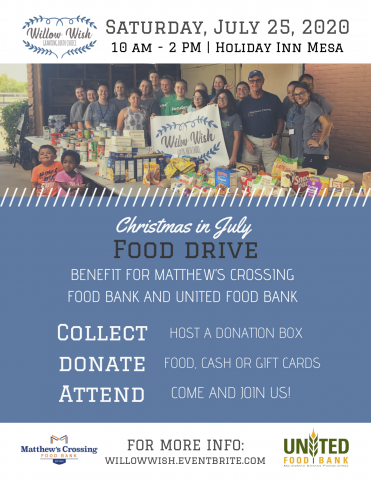 Holiday Inn Mesa and Willow Wish are teaming up to help our neighbors that need our support. The "Christmas in July" Food Drive to benefit United Food Bank (Mesa) and Matthew's Crossing Food Bank (Chandler) is being created to allow you and your family to participate together to make a difference. There will be a sorting station, a mini-class to learn more about family nutrition, and a craft area to make a card for the food bank volunteers, and take-home craft and thought questions to keep the conversation going with your family after the event.
We also have a Drive-Thru option for families that would prefer to maximize social distancing. Both tickets are free of charge and can be reserved on our event site: click here.
HOW YOU CAN GET INVOLVED:
Collect: Would you be willing to host a donation box in your business? We will drop it off 3-4 weeks in advance of our event day and pick it up the week of the event.
Donate: Cash or Gift Cards to be used by the food banks to purchase the goods they need to service their clients.
Attend: Come to the event and share in the joy of making a difference for others. Join us inside the Holiday Inn Mesa if you are ready for some human interaction. Or, if you feel more comfortable maintaining some social distance, drive in and drop off your donation and take home a DIY class and craft for you to enjoy with your family at home.
Thank you in advance for taking the time to read this and consider how you could support our efforts to ease the burden felt by our local food banks. We look forward to hearing from you.
MOST NEEDED ITEMS:
Peanut Butter – Canned Meat – Canned Fruits + Vegetables – Canned Beans + Soups
Cereal – Whole Grain Pasta + Rice – Baby Diapers + Wipes – Feminine Products
Get your FREE tickets here: https://christmasinjulyfooddrive.eventbrite.com