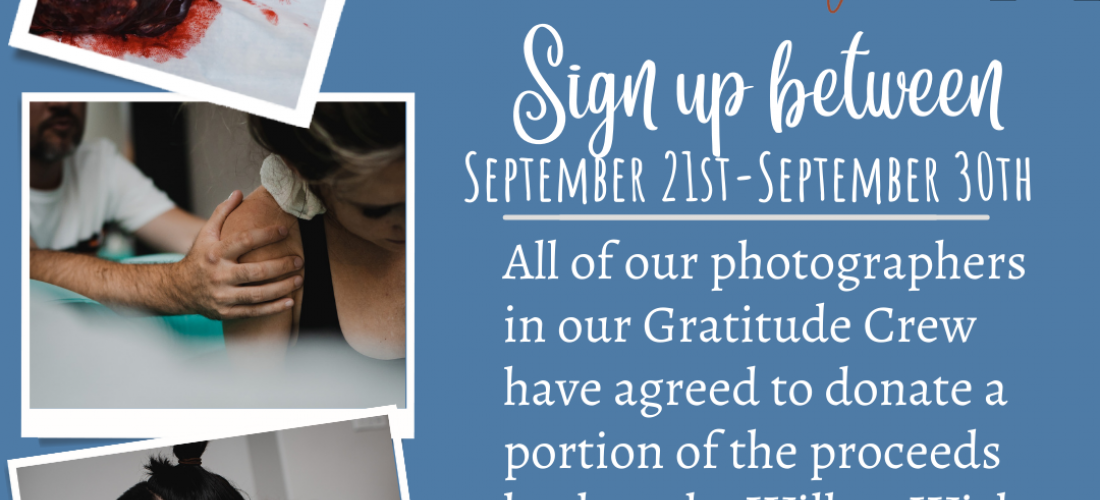 Day 6
Susan Joy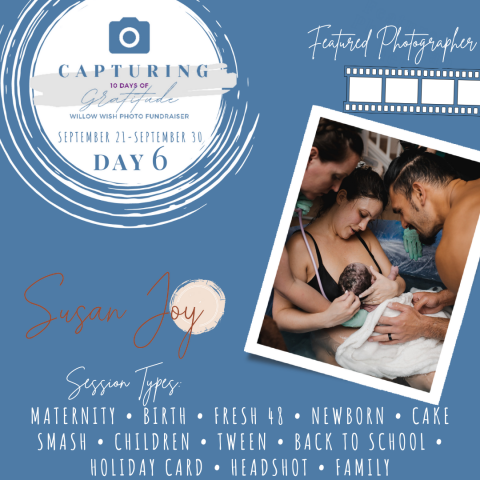 As we celebrate Day 6 of our Capturing 10 Days of Gratitude Fundraiser, I am pleased to introduce you to Susan from Susan Joy, a photography company that offers photos and films.
Susan is exactly what her name sounds like: Joyful. If you need a little joy in your life, consider hiring her for your family's photography needs this season. Remember that our photographers will make a donation to Willow Wish for any photo sessions booked during our Capturing 10 Days of Gratitude Fundraiserj
BIO: Do you remember the first thing you said? How your partner held your hand and whispered encouragement in your ear?
My name is Susan Joy. I've been a birth documenter for 4 years and I'm here to make sure that none of those moments are forgotten. My photos transport you back to that moment when everything changed. My video let's you hear your baby's first cry again.
Your birth is authentic. It is connected, powerful, and joyfully you. I see it all through my lens. Will you let me show you?

CONTACT INFORMATION
EMAIL: susanjoyfilmandphoto@gmail.com
WEBSITE: https://susanjoyaz.com/
IG: @susan.joy.az

SPECIAL OFFER: I will be donating $100 to the Willow Wish foundation for every birth I book during the 10 days of gratitude and one client will receive a complimentary Maternity session!

AVAILABILITY:
October: 2 clients
November: 1client
December: 1client
January: 2 clients
February: 1 client
March: 2 clients
April: 2 clients
May: 1 client


SESSION TYPES:
Maternity
Birth
Fresh 48
Newborn
Cake Smash
Children
Tween
Back-to-School
Holiday Card
Headshot
Family